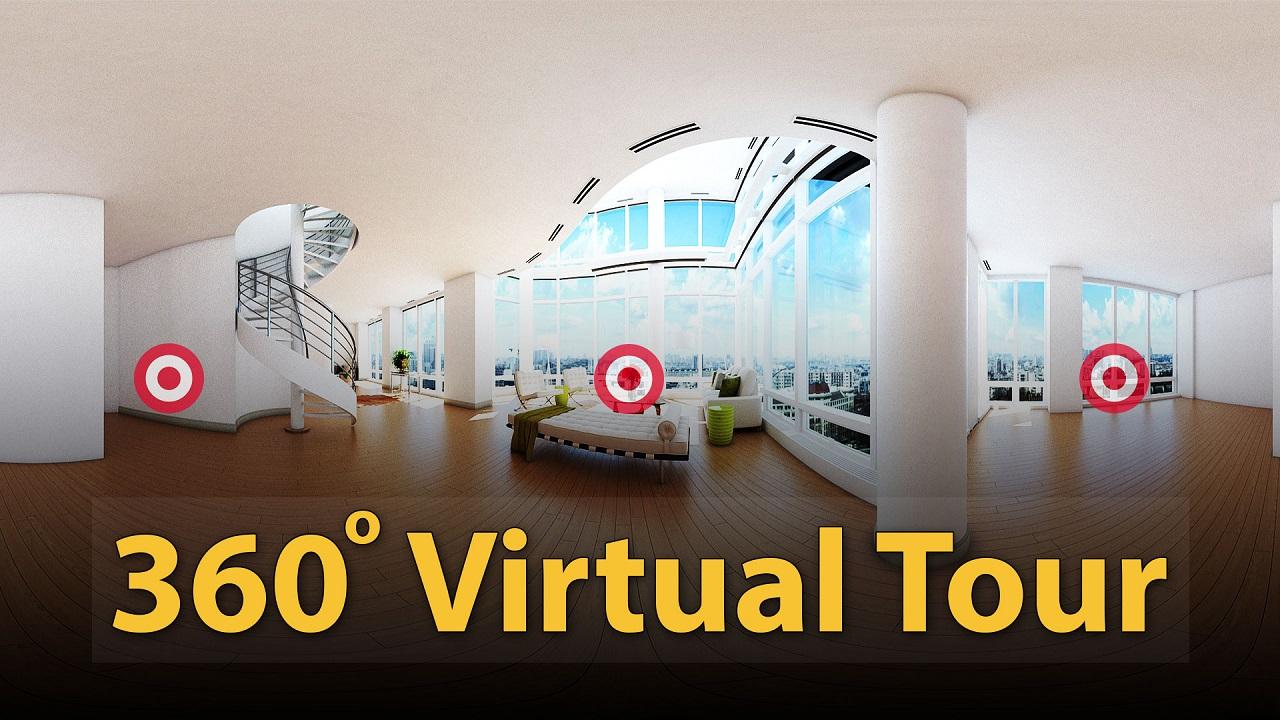 How Do You Create 360-degree Virtual Tours?
You don't have to physically visit a place to get an experience and feel of that place. But, how does that happen? AI and Virtual Reality have made it possible by allowing humans to create 360-degree tours and experience the features and dimensions of any space or an object that isn't physically present there. The real estate industry is making the best use of this technology and its benefits by providing its buyers with an opportunity to take a tour of the house before deciding to buy it. There are different steps involved in creating them, such as choosing the right equipment and staging the shoot. All these steps are discussed in detail in this blog. So, we suggest you keep reading till the end.
Steps Involved in Creating 360-degree Virtual Tours
There are several steps involved in making these tours because they're not straightforward to create. These steps are discussed in detail below. Read them carefully to understand how does it work.
Choose the Appropriate Tools
Everything begins with planning, and it is valid for 360-degree tours as well. However, the execution of that plan, in this scenario, starts with choosing the right equipment. The essential equipment you need is a 360-degree camera that captures panoramic images. You also need software to stitch these images together to create the tour. Make sure the camera and software are compatible with each other.
Plan the Shots
You need to list the rooms and places in which you plan to create the virtual tours. Visit the sites and find the center of the room or any side to capture the details and dimensions. Next, you need to prepare that space to take the shot. Ensure that nothing comes in the way of the lens when you capture the images. So, remove everything unnecessary to prepare the room.
Take Test Shots
Level your tripod and camera where you can take the best shot. Since you'll capture multiple images of the room from different corners, ensure that the level of the tripod isn't disturbed to take uniform photos. Take test shots from various places to check if everything is set to perfection.
Capture the Images
Now that everything is set and you're ready to take the shots, capture panoramic images of the space or the room you're in. Make sure to take multiple photos from the same position to choose the best one among them because no two pictures are the same. Check each image on the camera screen before moving the tripod to another location to ensure that you've got your desired shot.
Create the Tour
The final step in the list is creating the tour using specialized computer programs. The best images are uploaded to the software and stitched together. When linked together, the panoramic pictures make a 360-degree tour and provide a continuous view of the space, which you can see from any dimension and angle.
It was just a brief explanation of the steps you need to take to create a 360-degree tour. If you're interested in knowing more and looking for a company to create one of your places, contact 360Nash for this purpose because they're among the best you'll come across.
360Nash Created a Virtual Tour of Maumee Valley Country Day School
For our unrivaled skills and experience in photographing bigger structures and real estate buildings, 360Nash was hired to create a virtual tour of Maumee Valley Country Day School. You can begin touring the institute with a bird's eye view as we used drones to capture panoramic and 360-degree images of the landscape from the sky. You can move to any direction and corner of the school by just dragging your cursor and clicking on the screen. We have covered every corner of the school, from grounds to roads and dormitories to classrooms and libraries. We offer you a visit without even going to the institute personally. It helps you a great deal in deciding to send your kids or not.
Are you interested in knowing more about the topic? We have compiled a list of some questions customers ask. Read them all to get some additional information.
Frequestly Asked Questions
How do virtual tours help students?
One of the best ways virtual tours help students is by taking them to field trips without traveling to the place. These trips are among the best sources of information and knowledge for students, and virtual tours assist them with it.
What can I expect from a virtual tour?
With a virtual tour of any place, you can expect to visit it multiple times without any restrictions and can explore the site in detail with all its dimensions and every angle visible in front of you.