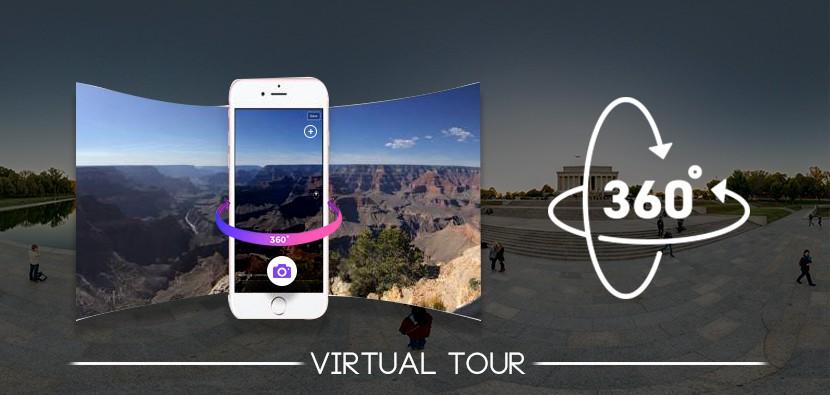 All You Need to Know About 360 Virtual Tours 
3D and 360 virtual tours are making headlines lately, especially in the real estate and tourism industries. A lot goes on behind the camera to make the 3D or 360-degree pictures we call virtual images. The most important technology used to create these tours is virtual reality. Some, however, use augmented reality to create a more realistic experience. These two technologies are helping modern real estate agencies and their clients in many ways, like getting a comprehensive and realistic view of a property or a place without physically being there. So, we feel that it's important to educate you about what virtual tours are and how they're created, which is a reason behind this piece of writing.
What is a 360-degree Virtual Tour?
A virtual tour is when you can have a detailed view of every corner of a house or any property on the screen of your digital device. You don't have to be physically present at the place you move around with this technique. It all happens with the help of 3D images and virtual reality. Technology allows you to feel every dimension of a space and watch it from any angle you like.
Technically speaking, a 360-degree virtual tour is a series of images stitched together to create a continuous and dynamic view. The images combined to make a virtual tour are either panoramic or 3D. Specialized cameras and lenses capture static or panoramic images that are then stitched together, creating a virtual view.
How is it created?
It all begins with choosing the right camera that captures panoramic or 360-degree images. These pictures play a significant role in the creation of a virtual tour. The camera is then placed at different places in the room to get perfect images of all the dimensions and angles. The photographers always take test shots to check if the light and angle are right for the ideal pictures.
After the photos have been taken, it is time to put them into specialized software to combine and stitch them together. The software is equally important as the camera and the snaps you take. Both static and panoramic images are added to create 3D virtual and 360-degree tours, respectively. Once the end-product is ready, viewers can have a dynamic view of the space in the tour and move to every inch of the room or the landscape with just a click of the button. Some video tour creating software offer the opportunity to add audio such as voiceover or background music.
This is just a brief explanation of what a virtual tour is and how it is created. We believe in having provided you with enough information to know the concept well. Suppose you wish to create virtual and video tours of your house or any other place like a school or hospital in Nashville. In that case, 360Nash can be your go-to choice as they have all the expertise and skills needed to create mesmerizing videos and virtual images.
360Nash Created a Virtual Tour of Maumee Valley Country Day School
For our unrivalled skills and experience in photographing bigger structures and real estate buildings, 360Nash was hired to create a virtual tour of Maumee Valley Country Day School. You can begin toruing the institute with a birds eyeview as we used drones to capture panoramic and 360-degree images of the landscape from the sky. You can move to any direction and corner of the school by just moving your cursor and clicking on the screen. We have covered every corner of the school, from grounds to roads, and from dormitories to classrooms and liabraries. We offer you a visit without even going to the institute personally. It helps you a great in making a decision to send your kids or not.
Keep reading as we have created a precise list of customers' common questions about the topic under discussion. They might also enhance your knowledge.
Frequently Asked Questions
What is the purpose of virtual tours?
As a famous saying goes, "modern problems have modern solutions". Virtual tours are a modern way to promote your business, like real estate and tourism, and optimize marketing efforts by offering customers a realistic view of a location or property without physically visiting it.
Do virtual tours help sell houses?
Virtual tours are among the most welcomed concepts in the real estate industry because of the realism they offer customers while looking for a house to buy. A study by the University of Iowa found that these tours play a significant role in selling homes for a higher price than a similar house without a virtual tour.
How are virtual tours made?
There are specialized cameras that take 3D or 360-degree panoramic photos. These photos are then combined with the help of software to make virtual tours. The more dimensions and angles of space you capture, the more detail the tour is.